A family of authors
My wife, Sun Bin, co-authored the book about Sun Bingwen (1885-1927), her grandfather. It was published in October 2015. The title "先锋战士 孙炳文" "Xiānfēng Zhànshì Sūn Bǐngwén" can be translated as "Vanguard Fighter Sun Bingwen". (vanguard/pioneer – fighter/soldier/warrior). It was written by Luo Jin and Sun Bin, with Sun Bin providing most of the content. She is not totally happy with the content and might at one stage rewrite it to tell her side of the story.
The Sichuan connection
Her "laojia" (ancestral home) is considered to be Nanxi (in Yibin, Sichuan) though she was born in Beijing and actually never lived there. See the pictures taken in Nanxi where a statue was erected of Sun Bingwen (native from Nanxi) with Zhu De; both were "brothers by oath", together with Zhou Enlai.
See the news article from Yibin Government:
141209 yibinnews
The relations between the two families, and with Zhou Enlai were very close. It was instrumental for Zhu De to change from being a warlord to a key leader in the Communist Party. The two also worked together in Luzhou, where there is a museum dedicated to Zhu De.
In the book there are some pictures, we have most of those plus more at home. See as an example pic SBbook6, another picture of Sun Bingwen, not in the book.
About Zhu De, see
http://www.chinadaily.com.cn/china/cpc2011/2010-09/30/content_12475227.htm
and
https://en.wikipedia.org/wiki/Zhu_De
Less is published about Sun Bingwen who was the father of Sun Yang (Sun Bin's father) and Sun Weishi (her aunt).
See this part of the book Turbulent Decade: A History of the Cultural Revolution, by Jiaqi Yan, Gao Gao
https://www.amazon.com/Yan-Turbulent-Decade-Library-Translations/dp/0824816951
Also, in 中國婦女傳記詞典: The Twentieth Century, 1912-2000 (Biographical Dictionary of Chinese Women), see: https://books.google.co.jp/books?isbn=0765607980
About Sun Bingwen, Sun Weishi and Sun Yang
Sun Bingwen, the father of Sun Weishi, was recruited by Zhou Enlai to join the Chinese Communist Party (CCP) in Germany, and subsequently became a close friend of both Zhu De and Zhou Enlai. After studying abroad in the Soviet Union, Sun Bingwen returned to China in 1924 and joined the faculty of Whampoa Academy. Sun Bingwen was executed when the relationship between the KMT and CCP deteriorated in 1927, during the "White Terror".
Following her father's death, Sun Weishi's mother, Ren Rui, took the family into exile, raising Sun Weishi and her three siblings alone while participating in CCP underground work.
Sun Weishi had one sister and two brothers. One of Sun Weishi's brothers, Sun Yang, was imprisoned with his father in 1927, when he was only twelve. Sun Yang was eventually released, became Zhu De's personal assistant, and became the president of Renmin University after the founding of the People's Republic of China. He was also one of the pioneers of the State Planning Commission (now called NDRC).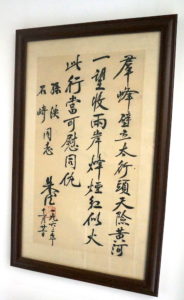 The calligraphy by Zhu De dedicated to Sun Yang and his wife (Shi Qi) (our Beijing home)
In 1967 Jiang Qing accused Sun Yang of being a spy for the Soviet Union, the Japanese, and the Kuomintang, and Sun Yang was tortured and killed by Maoist Red Guards in the basement of his own university. Sun Weishi was also wrongly imprisoned by Jiang Qing who considered her as her mortal enemy; she was said to be killed by a nail driven into her head. There is a shrine in Babaoshan Cemetry dedicated to them. I still need to find back the picture I took of it…
We obviously rejoiced when Jiang Qing hanged herself in prison, after the Gang of Four was brought to justice.
One good source:
https://en.wikipedia.org/wiki/Sun_Weishi