No, not my new book
I posted a picture on Facebook of a shipment that arrived in my Beijing home forces me to clarify that my first book will soon have a little brother.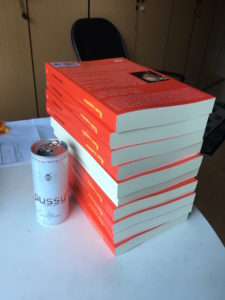 "Toxic Capitalism" was published in 2012, through AuthorHouse – a bad experience. I have been regularly importing 120 copies to Beijing, selling myself and through the well-known book shop "The Bookworm". See: http://beijingbookworm.com/
The last shipment was a near disaster. Suddenly Chinese customs did not allow anymore shipments of foreign books of more than ten copies. There was no way around it and I had to send back the shipment to the publishing company in the UK, They then sent 120 copies to my daughter in Brussels and now we are slowly getting copies to Beijing. The picture shows a recent arrival of ten copies, celebrated with a Pussy. Yeah that was to wake up dirty minds. It is a passion fruit drink from The Netherlands, now distributed in Beijing.
So many of my Facebook friends thought it was my recent publication…
A friend posted this pic, yes it is still for sale in The Bookworm: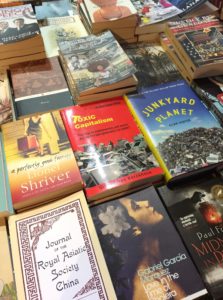 My next book
People talk about "writer's block". I think I have many more "blocks". One is to upload my e-book to Amazon, supposed to be done this week. Please check the definition of "procrastination"! I must hold a PHD in that field.
So what is the book about? Well, you will have to wait till it is out, in e-book and in print, all through Amazon. Kindle will be first. Basically everything is done. I just need to do the electronic paperwork on Kindle website… A bit scary.
How I did it
My first book was done 100% on MS Word. It was a very complicated document. That went to the publishing company that made the e-book and the print version. The design of the (front) cover page was done by ourselves, with daughter Valerie being the final artist.
This time, 100% self-publishing and the second book is a bit of a learning curve on how to do it. Book number three is still a work in progress.
The second book was originally started using MS Word. Then I switched to Scrivener, a special software to write books and – produce the versions for e-book and print.
Learning Scrivener was OK but compiling for print and e-book was a real challenge. After many failed attempts I have now mastered the settings. The print output, in MS Word (exported from Scrivener) is done, for a format 6 x 9 inches paperback; page count is 359.
The e-book, Kindle version is also ready.
I did not use an third-party editor because of the special nature of the book (yeah, suspense), but my daughter Marianne suggested a few corrections. But after some searching I first hired a cartoonist to make a cartoon according to me ideas. Then the cartoon was used by a service company that makes the cover page for the e-book as well as the wrap-around cover for the print version (front, back, spine). All done.