A changing landscape
Chinese are reading books, yes, but while print is far from dead, digital is making a constant progress.
Here some book market data from 2017 when the changing habits became clear.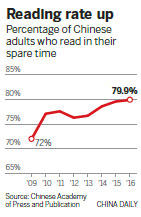 Chinese adults read an average of just under eight books in 2016 – a tiny increase of 0.02% over 2015 – while a rapid increase of 6.1% was seen in the number of people reading digital content. In 2016, an adult Chinese read paper books for an average of about 20 minutes. They read up to about 74 minutes on mobile devices, 3.7 times higher than paper book-reading time.
Of the nearly eight books read by an average adult in 2016, about five were in print form and three were digital. Wei said similar surveys of readers from European countries and the United States show that they read 10 titles a year, while Japanese read 12.
The survey also found that more than 17% of Chinese used audio books last year, a fairly new trend. Romance, history, languages and lectures were the favored audio content. My (Chinese) wife listen the whole day to Chinese audio books, she says it is easy and relaxing.
And despite the slight increase in the number of books read on average, it is a worrying trend that more and more Chinese adults engage in casual and superficial reading.
For the question, "Where'd all the time go?" President Xi Jinping has a simple answer: Make time outside of work to study. When he worked in rural Shaanxi province, he walked 15 kilometers to borrow a book, he would read while eating, and he frequently recommends books to officials. Reading is a habit. It's a way of life. "Reading keeps the mind alive, gives people wisdom and inspiration, and cultivates a noble spirit."
Trading used books online
Duo Zhua Yu, or Deja Vu, is an online secondhand bookshop that buys secondhand books at between 20 and 40% of their original price and sells them at between 30 and 55% of their original price.
Duo Zhua Yu was founded in January 2017 and had soon won a large following of people.
During the 2018 Singles Day online shopping spree, Duo Zhua Yu said it would pay more for the books it bought for 24 hours and in doing so its inventory swelled with the addition of 100,000 books, which it says is five times the number of books it usually buys each day.
Wei Ying, 32, founder of Duo Zhua Yu and a former employee of the e-commerce company Alibaba, says the idea of opening an online secondhand bookstore arose from her experience selling old books and CDs when she was a university student in Beijing.
The dream of running a secondhand shop thus took root in Wei's mind, and in January last year she quit Alibaba, starting her online secondhand bookshop.
Wei Ying, founder of Duo Zhua Yu and a former employee of the e-commerce company Alibaba
Her business started from groups in the social media app WeChat and she later set up a WeChat official account, with a mini-program to run the business. In March last year Wei had 5,000 books stored in her house in Wangjing, northeastern Beijing. After a year's growth, the warehouse she rented in a Beijing suburb had more than 20,000 books.
Continuing growth forced her to move twice as she sought more space to store all the secondhand books she received, once to Langfang in Hebei province and again to Tianjin. In July there were over 700,000 books in her 7,000-square-meter warehouse in Tianjin, Wei says.
Though online secondhand book stores provide plenty of convenience and seem to have bright prospects, more conventional, physical bookshops, are still showing their resilience. During the National Day holiday in October, Duo Zhua Yu rented a shop in Beijing for a week, its first offline store, and says it sold 180,000 secondhand books in just six days.
Other online secondhand book stores include Zhuan Zhuan (Exchange) and Manyou Jing (Wandering Whale), which have official accounts or mini-programs on WeChat.
The earliest secondhand bookshop
Whenever somebody is asked about the earliest online secondhand book-selling platform in China, chances are that it will be Kongfuzi Jiushu Wang (Confucius Old Book website). The site was set up in 2002, eight years after the internet arrived in China.
Though the website is well-known for selling secondhand books, its founder, Sun Yutian, prefers to call the site's wares "old books".
If you scan the website you will soon see that plenty of books it sells are ancient ones, including the classics of traditional Chinese culture, whose admirers are as almost as rare as the books they love.
"What I did was build a platform to let more book lovers find all the books they want, no matter whether the books are new or ancient, bestsellers or non-bestsellers."
Ultimately the aim is to provide customers with books they cannot buy elsewhere, he says.
The website is run on the model of customer to customer, or C2C. People run their online shop at a low price, paying 100 yuan ($15) to 600 yuan annually or pay 4 percent of their income with the platform.
More than 70,000 stores sell in excess of 100 million books on Kongfuzi he says, and more than 10 million people have bought books from the platform. By the end of October Kongfuzi had had turnover of nearly 800 million yuan, he says.
The full articles
See here the different sources used:
19 April 2017 "Readers on rise, mostly in digital"
By Mei Jia – China Daily
http://usa.chinadaily.com.cn/epaper/2017-04/19/content_28996791.htm
21 April 2017 "Joy of reading is being lost in the digital age"
China Daily
http://usa.chinadaily.com.cn/epaper/2017-04/21/content_29030685.htm
25 April 2017 "Reading is a habit and keeps the mind alive"
China Daily
http://wap.chinadaily.com.cn/2017-04/25/content_29068258.htm
8 December 2018 "Tomes that roam in the ether"
By Jiang Yijing – China Daily
http://africa.chinadaily.com.cn/a/201812/08/WS5c0b4e33a310eff30328fde2.html
8 December 2018 – The rarified atmosphere of an online bookshop
By Jiang Yijing | China Daily
http://usa.chinadaily.com.cn/a/201812/08/WS5c0b6f67a310eff30328fdf8.html