Audible
In a previous post I mentioned the share of audio books in China. The rise of audio books is a worldwide trend.
One big player is Audible, the audiobook publisher and retailer with more than 425,000 titles in its online store; Amazon is the parent company and has been pushing audio books on its platform.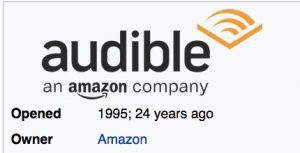 Audible is a seller and producer of spoken audio entertainment, information, and educational programming on the Internet. Audible sells digital audiobooks, radio and TV programs, and audio versions of magazines and newspapers. (Wikipedia).
"Audible is the leading creator and provider of premium digital spoken audio content, offering customers a rich destination for insight and inspiration to enhance their daily lives." (source: https://www.audible.com/about/our-company/)
Bypassing print
A growing group of well-known authors is bypassing print and releasing audiobook originals, hoping to take advantage of the exploding audiobook market.
Read the full story: https://www.nytimes.com/2018/06/02/books/audible-michael-lewis-audiobooks.html.
It's the latest sign that audiobooks are no longer an appendage of print, but a creative medium in their own right. The rise of stand-alone audio has also made some traditional publishers nervous, as Audible strikes deals directly with writers, including best-selling authors.
Other players in audio: Hachette, Penguin Random House and Macmillan Audio.
After years of stagnation in the industry, audiobooks have become a rare bright spot for publishers.
For decades, the audiobook market was limited by physical constraints: Listeners had to lug around cassette tapes or CDs, and bookstores devoted fewer and fewer shelves to the format. Digital technology upended that. Cellphones now function as audiobook players.