Finally read it!
See my earlier post: https://www.damulu.com/2020/08/15/other-books-by-lijia-zhang/
So I made it to the end of the new book. Fascinating.
China Remembers by Zhang Lijia and Calum MacLeod groups 33 contributions from Chinese and foreign residents in China, arranged to give insight into the history of the People's Republic and leavened with introductions to guide the reader through the complexities of its political campaigns.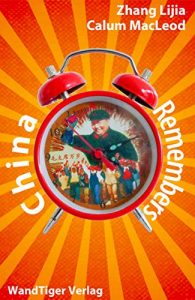 About the author:
Lijia Zhang – writer, journalist, social commentator and public speaker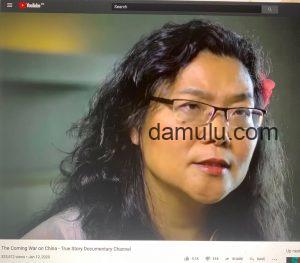 Website: https://zhanglijia.com/
Blog: https://lijiazhang.wordpress.com/
Her novel Lotus: https://us.macmillan.com/books/9781627795661
How to buy
China Remembers: The PRC's first 50 years, told through extraordinary personal journeys
by Zhang Lijia und Calum MacLeod (Author)
Format: Kindle Edition: https://www.amazon.co.uk/dp/B08CNJGF57/
and: https://www.wandtigerverlag.de/en/latest-publication/
The printed version came out in 1999, and the digital version came out in 2020.
Printed second hand copy is available on Amazon of the 1999 version.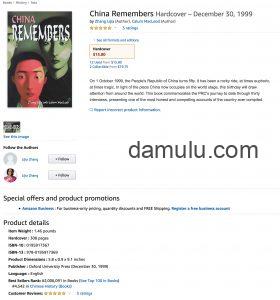 See screenshot and here the link: https://www.amazon.com/gp/product/0195917367
My report
I was very impressed with it, the book should receive more media attention while obviously some Chinese officials would not be pleased as it addresses too many issues it does not want to be talked about.
For me, a lot of the content is familiar as I know quite a bit about the turbulent past of the "New China". But I learned a lot.
I think any so-called sinologist (sinologue) should read the book before pretending they understand modern China. A translation into Chinese would be great as many Chinese, especially the younger generation, know little or nothing about the difficult periods China went through to become the world power it is today.
Remarkable is that many of the people who suffered a lot still remain supportive of the government and the party.
Yes, the book is a must read and is an important legacy to preserve history.
Some remarks
– The contributions by the people interviewed could be dated to better understand the historical context. Something simple like "Interview with XYZ, dated March 1997".
– Omission
In "Making Revolution" the adopted daughter of Zhou Enlai was not named. It is Sun Weishi, our auntie.
In "Entering the World" it is mentioned Li Peng was the adopted son of Zhou Enlai. We knew that was a false rumor that circulated a lot. Later on Li Peng officially admitted it was not true. Zhou and Li were not so close. Only Sun Weishi was really the "adopted" one. They were very close.
– An index at the end with in particular names of people and important historical events would be nice.
– Printed version: a new and updated printed version would be nice.
Congratulations for this great book. A must read!
I am now reading her book Socialism is Great. Keep posted for my review.