How it all started
When the author Enoch Li went through her depression, slowly the idea for her book "Stress In The City" was created.
See also my earlier post: https://www.damulu.com/2019/06/19/depression-and-stress-in-the-city/
Her earlier thoughts can be traced back on her blog: http://nochnoch.com/about-blog/
She explains her road to a complete breakdown:
"Beginning November 2009 I got physically ill, to the extent that I was in the hospital every 2-3 days, and all I could do was lie around at home with no energy to even read a book or watch TV. The pain in my head was excruciating, like a million jackhammers pounding on me. Extending from the physical side of things, I spiraled down mentally and emotionally till I sunk into severe depression. For almost 3 years, I trudged through what seemed like never-ending darkness.
…
End of 2009, my body had enough, and everything exploded. I came to a complete breakdown."
That let her to write an e-book "Pull yourself together – Bridging the communication gap between the depressed and those who love them."
It is here available as a free download:
http://nochnoch.com/2015/10/10/a-hope-to-help-free-ebook-download/#.VmBIg3tPKOA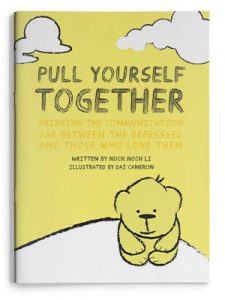 Enoch explains:
"This inspiration for this free Ebook on depression came from the 1000+ comments to the post on our Founder's blog, NochNoch, "10 things not to say to a depressed person", she realized that there was a marked misunderstanding between the depressed and those who are not. Perhaps it was someone who wanted to help but did not know how, or depressed persons who could not communicate their lethargies to others. A rift ensued, fueling anger, frustration, and even hatred and despite. Having been on both sides, she decided to write about this, in the aim of elucidating her perspectives on how we could communicate with empathy and help those who needed it."
See her blog for more details.
Reading Stress In The City
I read the book and found it fascinating. And I joked I was looking into dogerapy as an alternative.
See here part of my personal comments (edited) I sent to her:
– Your description – brutally honest – of your misery during your depression, and how you slowly came out of it, is in my opinion the best part of the book. It must give others more courage to admit, yes, this is also how they feel, they are not alone.
– Like you said, people often think getting out of the depression just needs some personal efforts, will power, blablabla. Of course that does not work.
– I was a bit "puzzled" on how, in the first part of the book, Tim does nearly not appear, me even wondering, was he with you? You were alone? The guy is an angel of patience. I would probably have given up. How did you two go through that long period? Was Tim just sharing the apartment with "a zombie"? How did he react when you were in this horrible state? That one side of the story bugged me.
Enoch replies
Her husband Tim was indeed an angel. helping her to go through it all:
"For most part it was self-loathing on my side and Tim just had to tolerate it. His biggest job was just to make sure I was alive. He would sometimes sit with me when I cried or howled or stomped in tantrums, sometimes he held me, sometimes he just was there and that was enough. He was the one who dragged me to the doctor's, who called the taxi in the winter and drove me to ER. He was always on alert in case I called him or he had to call and check on me."
This article talks a bit more about his experience:
"World Mental Health Day 2018: how husband helped wife fight severe depression."
9 October 2018 by Lise Floris
"Enoch Li was diagnosed with depression in 2009. Husband Tim Coghlan tells how, with his help and through therapy, she overcame it and the relapses that followed, and the impact her illness had on him."
Read the full story:
https://www.scmp.com/lifestyle/health-wellness/article/2167481/world-mental-health-day-2018-how-husband-helped-wife-fight
(China: needs VPN…)