Focused?
When considering writing books, some more considerations on writing and Amazon.
To be successful, authors should build a "following". That however requires to focus on and remain in a specific type of literature: e.g. fiction, romance, philosophy, name it. The more focused, the better.
My case is pretty hopeless as all books have nothing in common and I am working in more than one genre. "Toxic Capitalism" is a comprehensive study of environmental issues; "Laugh and Get Wiser" is a collection of (English) jokes; the next book will be a political manifesto. While the third book will use some of the themes of the first one, the three definitely have a different audience. A possible fourth book might be a collection of professional experiences; the other titles are still too far away to put a sticker on it.
The idea is that when readers like your book they might want more of the same. So in my case, pretty hopeless…
Amazon can be a bit "complicated"
As mentioned earlier my book "Laugh and Get Wiser" has a mention for me that it does not ship to Beijing. It actually does…
Some of my friends complain that when searching for it on Amazon UK it somehow gives strange feedback, like "Exclusive for UK clients" – it is widely available on all Amazon sites (except China of course).
The comments posted on Amazon sites are disconnected. If a friend posts a comment of my book on Amazon Italy it does only stay there and does not appear on Amazon USA. That is bad for the author as it gives an incomplete picture of what readers said about the book. Also, the author has to register on each Amazon site separately to introduce himself even if the book is available on that site. In my case till now I registered on the USA and UK sites.
The shipping charges vary considerably. I made shipments to Indianapolis, Brussels, Beijing: the cost is pretty different and goes up in that order.
If I sell hard copies myself, taking advantage of the special discount as the author (very reasonable indeed!) those sales do not appear in the Amazon overview. I sell to a bookstore in Beijing and to many friends who insist on a signed hard copy.
BISAC codes
One miscalculation: before uploading "Laugh and Get Wiser" I studied in detail the BISAC codes – the codes for the book genre, e.g.:
HUM018000 HUMOR / Form / Puns & Wordplay
HUM008000 HUMOR / Topic / Adult
HUM019000 HUMOR / Topic / Language
I thought defining focused BISAC codes was essential to the Kindle listing. I even registered as a member on their website, so I could have access to all details:
"The BISAC Subject Headings List, also known as the BISAC Subject Codes List, is a standard used by many companies throughout the supply chain to categorize books based on topical content. The Subject Heading applied to a book can determine where the work is shelved in a brick and mortar store or the genre(s) under which it can be searched for in an internal database."
See the website:
BOOK INDUSTRY STUDY GROUP https://bisg.org/page/BISACSubjectCodes
Well, disappointed when I entered all my data for my book "Laugh and Get Wiser". Nowhere to be found were the BISAC codes and the choice offered by Amazon was way too general. I still need to understand this…
Publishing in Chinese
As said in an earlier post Amazon does not accept books in Chinese. Guidelines are not always obvious. See the languages accepted for Kindle:
https://kdp.amazon.com/en_US/help/topic/G200673300
However an English book that contains Chinese characters seems to work… But one can't publish a Chinese book.
An alternative: Smashwords ignores (Amazon) limitations by allowing all authors from around the world and who have never heard of Steve Jobs to have the same reach. Another alternative to Smashwords would be the Draft2Digital platform.
As my wife is ready to publish her Chinese book, it is a challenge right now.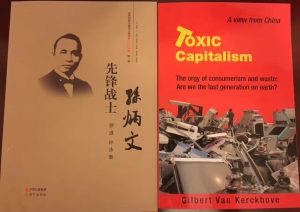 Yes we are a family of writers, each in a different world. Those are our first books. In both cases, not the best of experiences. See: http://www.damulu.com/2017/04/17/the-book-about-sun-bingwen/