The book of Enoch Li
First of all more about depression and Stress In The City, the book of my friend Enoch Li.
About depression, see the full article:
12 March 2019 – New hope for people who suffer from depression
By César Chelala in China Daily
https://www.chinadailyhk.com/articles/157/60/85/1552359375073.html
I quote:
According to the World Health Organization's estimates, more than 322 million people, equivalent to 4.4% of the global population, suffer from depression worldwide. In China, depression affects 54 million people and is the leading cause of suicides, according to WHO.
Nearly 50% of all people diagnosed with depression in China are also diagnosed with an anxiety disorder.
Depression is a state of low mood which can affect a person's thoughts, behavior, feelings and sense of well-being. Its symptoms include sadness, inactivity, difficulty in thinking and concentration, and altered appetite and sleep. Many depressed people have feelings of dejection and hopelessness that may drive them to suicide.
China has about 23,000 psychiatrists with credentials, much fewer than Russia and the United States. This number is totally inadequate to respond to the mental health needs of the population. An immediate response would be to improve the mental health training of medical and paramedical personnel and teach them how to better recognize the cases of depression.
In her book "Stress In The City", Enoch Li describes her personal journey battling a severe depression and how she found a way out of that difficult experience.
See here the announcement of her book in China Daily: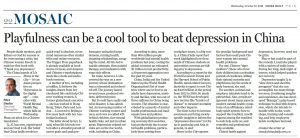 Enoch is back
On 17 January 2019 Enoch Li organized a cool evening to introduce herself back to the Beijing community and to present her book. She had disappeared from the Beijing scene (at least for me!) and the book explains it all. I was impressed by the large attendance and of course I bought her book right away.
The Bookworm Literary Festival
On 25 March 2019 Enoch Li was featured in The Bookworm, to present her book to a large audience.
Again she did a great job, introducing the concept of BEARAPY and answering the many questions from the audience.
About BEARAPY
See: http://bearapy.me
See the Corporate introduction: Bearapy Corporate Intro
More about her books in another post.